You might not know it but I'm a fully recovered binge eater…
There were times when I used to 'dislodge' my jaw and devour the entire contents of the refrigerator. So I had to come up with a system to ween myself off binge eating. And that system worked so well for me, I decided to write a book about it.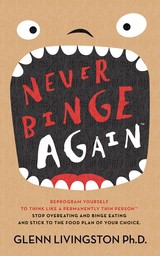 At first I thought that if I could just help one or two other binge eaters with my system that would be enough.
But…
One of my friends and partners, Yoav, developed a publishing system designed to help authors not only successfully launch their books, but also to turn them into a client-generation system for coaching and consulting businesses.
And in a very short span of time (less than three months), and for less than $100 in advertising, this little book has already built up my mailing list and generated 17 weight-loss coaching clients that pay me a monthly fee for weight-loss group coaching.
In the following video, Yoav and I explain exactly how YOU can position yourself as an Authority in your field and generate a steady flow of customers into your business with a book.
If you'd like to do the same thing under Yoav's tutelage, please visit www.BestSeller-Club.com